New for summer 2019!
Reach for the Stars - An Astronomer's Guide to the Galaxy starring Astronomer Annie!
To go with the summer 2019 reading club theme - A Universe of stories, Margaret spent 2 years writing, rehearsing, and assembling her most awesome, jaw-dropping show yet! It is full of ventriloquism, one-of-a-kind custom made puppets, custom magic and an exciting true story. The program features puppets such as "The Sun" - he's a BIG star! Also "Mother Earth" - she's so old she has snow on her roof and the "Moon" - a kid at heart who loves to surf because his gravity affects the tides! Children will learn interesting facts about our galaxy and new words such as "rotate", "revolve" and "orbit". They will find out about Neal Armstrong, first man to walk on the moon, an event which happened 50 years ago this summer. Audience volunteers will be utilized in an original magic trick which will help teach the order of the planets from the Sun. They'll also hear a story "Caroline's Comets" which is about the first PAID female astronomer, Caroline Hershel of England. She and her brother William built telescopes and studied and mapped the stars. She discovered several comets on her own and went on to become a very well known and respected astronomer in the late 1800's. She was a much sought after lecturer!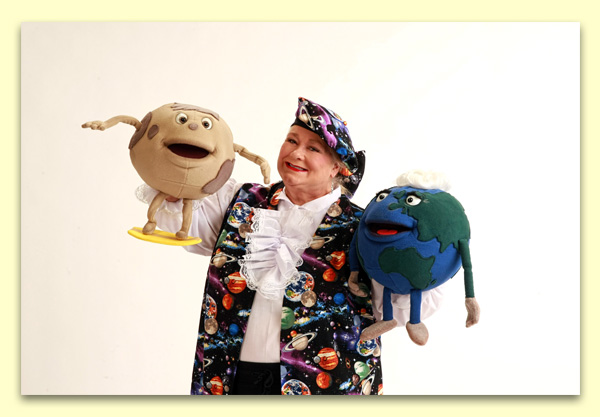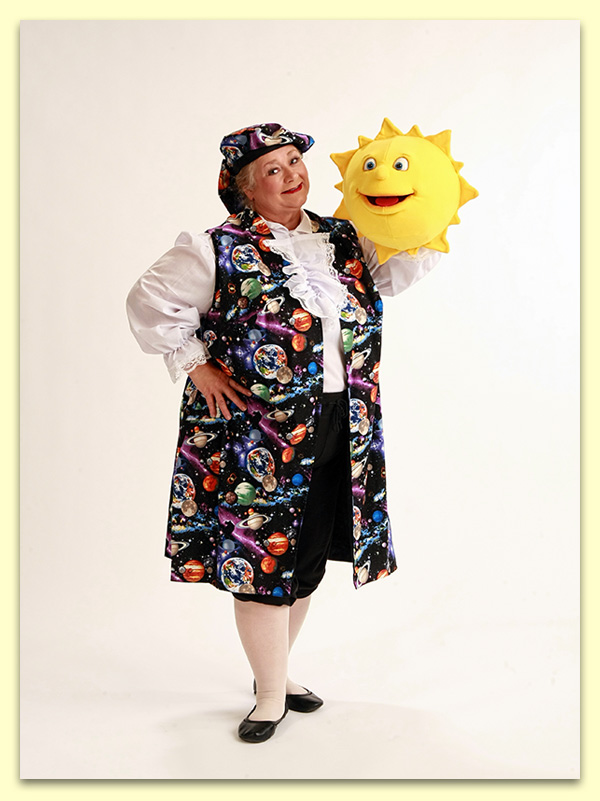 A performer with a Bubble Show or a Bug Show!
Bubbles Filled with Fun - Bernadette the Bubble Lady
A popular routine with the Bubble Lady is when she gives someone a giant bubble hairdo, and then styles it for them. Lots of fun & laughs!
Yes, you have blown bubbles before. But were they this big? And did you do it with your bare hands? Bernadette does!

Bernadette brings wonderful programs your kids will find fascinating. Click to jump over to her Blow a Bigger Bubble program, or to get closer to her What's Bugging You show. Either program will have kids and staff squealing on the day she shows up!

Creepy Crawly and Right Up Close! Bernadette the Bug Lady

The Bug Lady brings some insects which
we might have already gotten to know.
And she brings some that we probably never
had in our hands; at least not voluntarily!
Coming Summer 2013 - Dig Up A Good Book With Paleo Maggie!
Margaret posing with a Read-O-Saurus, one of the puppets who will help her on a journey to dig up a good book!
Apparently, the Read-A-Saurus is up to mischief, requiring a stern look. How well does it mind? What book do they find? You'll learn that in the show!

Paleo-Maggie engages the audience with her program, using storytelling, puppetry, and ventriloquism, along with fun co-stars as she leads childen on an imaginary journey through the library to dig up a good book! The audience meets Elmer (the boy who doesn't like to read), Webster (the talking dictionary who defines new words for us), and the Read-A-Saurus Rex (the only dinosaur who did not become extinct because he was so smart from reading!) These engaging characters will hold the attention of the audience as Paleo-Maggie encourages kids to explore and read books from unfamiliar parts of the library! With a firm focus on books (several are featured as part of her show) your audience will have lots of motivation to go all over the library on their quest to dig up a good book!

Learning Points
1. Encourage children to seek out non-fiction books on several science subjects, including archeology and paleontology. Paleo-Maggie leads the audience as they discover that these topics are relevant to Texas itself!
2. Define and differentiate the terms paleontology and archeology.
3. Show the importance of reading to any profession children wish to explore when they grow up.

Paleo-Maggie with Elmer, a friendly little boy who will help her during the show. Sure he will help her! He may be slow to learn, but at least he's trying!
Yes, Elmer is trying, but he makes up for it with moments that leave us laughing! Here Elmer has Paleo-Maggie laughing quite hard!
This show will be offered for the summer 2013 season. Book your date as quickly as you can to insure the time you want is open! Consider booking with neighboring libraries, too, for a per show discount!
Weeks of fun with Mother Goose at the Texas State Fair! (Sept. 24 - Oct. 17)
| | | |
| --- | --- | --- |
| | | |
| The stage is filled with some of the 200+ kids who came to the show on October 4. Stop and see the show when you are at the fair! | | The children are showing their favorite book. (This photo is completely unstaged, and no child was bribed with candy . . . ) |

In 2010, Margaret performed the Mother Goose show in the Children's Activity Center. This was part of the Every Child Ready To Read program created by the Dallas Public Library. Margaret promoted literacy with fun rhyming lead by Mother Goose. An assortment of puppet characters add mirthful mischief to the show, which is built on Mother Goose rhymes. With support from Atmos Energy, and the Texas Commission of the Arts, children were introduced into the joy of language, and encouraged to create their own rhymes.
Since 2007 Margaret has attended the Texas Library Association convention to meet with librarians from all over the state of Texas. Come by her booth in the storyteller section this year and see her. She may have a surprise for you for coming by!